Work on Aruba as health care professional
Have you always dreamed of working abroad? This is your chance to work on Aruba! The medical facilities in Aruba are excellent. There is a modern hospital in Oranjestad and a medical centre in San Nicolas. When you work in Aruba you get complete guidance from Korint. We arrange all your documents and permits, and we help you find accommodation. You can enjoy every second of your time in the Caribbean, let us worry about the necessities.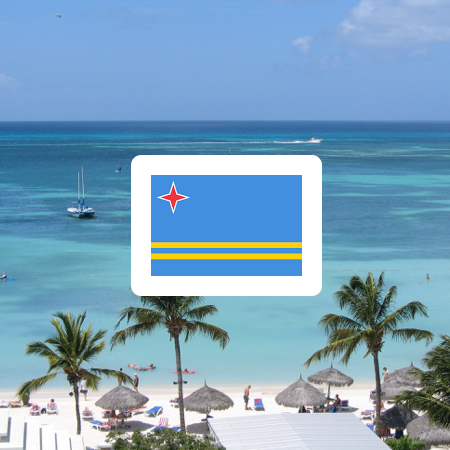 Your workplace
Aruba is a beautiful island in the mid-south of the Caribbean Sea. Together with Bonaire and Curaçao, Aruba forms a group referred to as the ABC islands. Collectively, these and the other three Dutch substantial islands in the Caribbean. These islands are often called the Dutch Caribbean. the capital of Aruba is Oranjestad. The island covers around 180 square kilometres and is populated by 120 000 inhabitants. One important aspect of Aruba's multicultural society is language. A variety of languages are spoken in Aruba. The two official languages are Dutch and Papiamento, most inhabitants also speak English and Spanis. Unlike much of the Caribbean islands, Aruba has a dry climate. With a constant temperature of 28 degrees Celsius Trade winds cool the island, making lying in the sun on one of the many beaches much more tolerable.
Nature and culture
The Carribean islands have the most beautifull beaches and  a very relaxed culture 
International
always in contact with international colleagues and tourists 
Housing
the hospital arrange your housing for the first months 
Colleagues
there is a lot of social contact between the international colleagues 
quality improvement
the quality of healthcare improves on the Caribbean island, with your help
Experience Caribbean 
see here some expercience from our health care profesionals working in the Caribbean
A dream coming true, working in this beautiful country as emergency nurse 
Enjoy! it is an unique experience to work on Aruba!
the best thing about working on Aruba is the diversity. in the hospital they have doctors and specialists from all over the world. 
U.K. contact person
During the preparation en during the working period, there's always someone in the U.K. who is there for you.
For your comfort
There is no easier and more comfortable way to make your international dreams come true.
Want to work for an health care institution in the Caribbean?
Then you're in the right place. Let us know what your wishes and needs are and we'll start the job hunt for your perfect adventure.